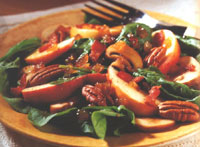 This spinach salad has the best appeal ever!
Ingredients
3 tablespoons olive oil
1 1/2 tablespoons cider vinegar
1 tablespoon prepared mustard (I prefer Dijon)
1 tablespoon sugar
1/2 teaspoon salt
1/4 teaspoon fresh ground black pepper
1 golden delicious apple, halved, cored, thinly sliced
1/4 cup red onion, cut in thin strips
3/4 lb fresh spinach, washed, stems removed, leaves torn
1/2 cup toasted pecans
Directions:
1.    In serving bowl, whisk oil, vinegar, mustard, sugar, salt and pepper until thick.
2.   Add apple and onion.
3.   Toss until apples and onions are covered with dressing.
4.   Place spinach on top, then pecans.
5.   Just before serving, toss.