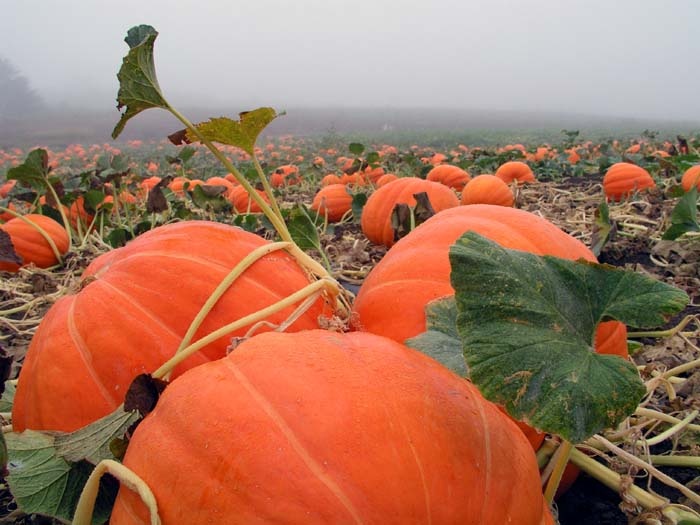 The bright orange pumpkins at Albion Orchards signify autumn and each is an exclamation point in the parade of fall colours in Caledon.  Roasted pumpkin seeds are common snacks out here, and during this time of year it seems like every meal ends with pumpkin pie.
Albion Orchards pumpkin harvest is open to the public, starting in October.
October ends with Halloween on the 31st, but at Albion Orchards it begins with a harvest party celebrating the beginning of pumpkin picking in our expansive pumpkin patch. Come search through hundreds of gourds in all shapes and sizes for the perfect pumpkin for your front porch. Once picked, the plump fruits are a joy to carve, easily gutted, and deliciously baked, roasted, and pureed for pies.
Most chefs agree that making a pumpkin purée is the smartest way to use the fleshy insides of your pumpkin. Its also very easy to do. Start by cutting your pumpkin down the middle. Scoop out the seeds and guts, and set them aside for later (for roasted pumpkin seeds).
Place your pumpkin cut-side down in a glass casserole dish with about a cup of water, and bake at 300 degrees for about ninety minutes or until the flesh is tender. Then scoop out the flesh and puree in a food processor.
Once you've made your pumpkin purée, it's ready for use in all your favorite pumpkin recipes, from pies to pancakes. Any extra can be stored in the freezer for several months.