Albion Orchards Accepts School Tours!
Albion Orchards is the perfect place to introduce students to the wonders of nature and the reality of farming in Canada. Our school tours are informative, educational and bushels of fun.  All around the Albion property there are lessons to teach; students can see, hear, touch and understand the many things a farmer does to ensure a healthy and nutritious crop. Your class will journey to the very heart of the orchard, where their learning experience will culminate with many 'aha' moments and oftentimes school faculty are the first to come up and say 'I didn't know that!' Students are encouraged to ask questions and interact with our guide throughout the tour.
Albion Orchards'  knowledgeable Tour Guide educates students on:
Pruning and caring for the trees and Apples.
The importance of bees and the pollination process.
Differences between varieties and harvest times.
What happens at harvest time?
Explanation of farm equipment.
Shown how to properly pick an Apple.
Actual Apple picking.
Pumpkin and Christmas Tree Farming.
Wagon Ride around the farm (Approx. 15 minutes in length)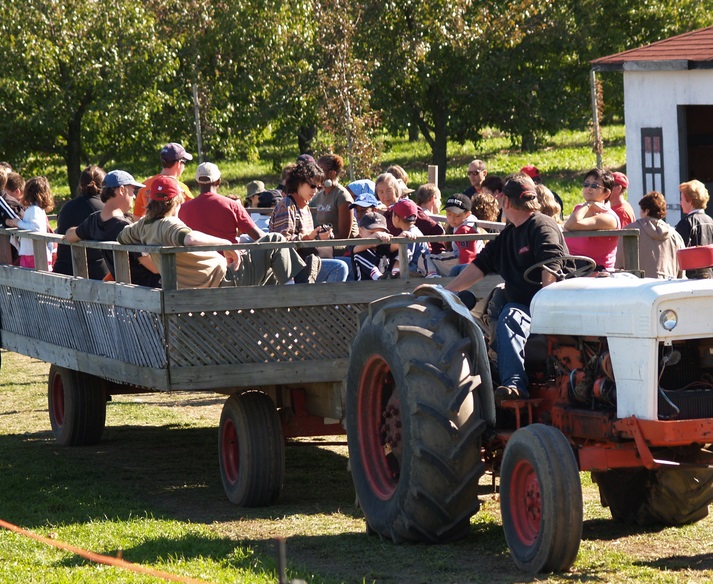 Rates and Offerings:
Tours are approximately 1 1/2 to 2 hours.
$8.00 per child, they get to pick 1 apple.
$10.00 per child, and each student will get a bag that can fit approx 3 apples.
Students will get to pick their own apples.
Every 20 students equals 1 free Adult.
Our Indoor lunch areas are available on a first come first serve basis.
Access to HayPlayLand and/or the Nature Walk for students is also available time and space permitting.
Although we are closed from December to August, our office is always open for booking tours. So don't wait call today!
Contact us to book your tour today!